Your Master Bath: from Idea to Reality
Your master bathroom. It should be an oasis of calm; a clean, beautiful, organized place to center yourself each morning, or to pamper yourself at night. But when you think about designing it, you may lose all of those Zen feelings. There are so many decisions!
Important factors that make a master bathroom a masterpiece are:
layout and use of space

colors and finishes

fixtures
Choosing the best of all three of these elements is made easier when you have help from a few experts!
Your custom master bath with Garden State
Your home at the beach may look out on gorgeous views, in which case you might choose windows to draw the eye. Placement of the sink and other appliances throughout the space can accommodate the views. And the natural light will highlight all of your other design choices.
From blueprint to reality
A blueprint is a very useful tool, there's no doubt, but it's a more appealing picture to an architect or engineer. Your tactile choices come with decor: colors, tile, decor, cabinets, and fixtures.
We believe in being flexible. We begin with various styles of tile samples in our office showroom. We talk about tile layout, and if you want specialty tile, how the cut, wear, layout, and final performance of that tile will work. We discuss fixtures and show you examples.
Some customers have specific ideas ready to go, and others are really itching to sit down and invent something novel with us. We're with you either way!
From here, cad drawings, 3D renditions, and images from our photo galleries help you envision the final bathroom design. And it goes
From this: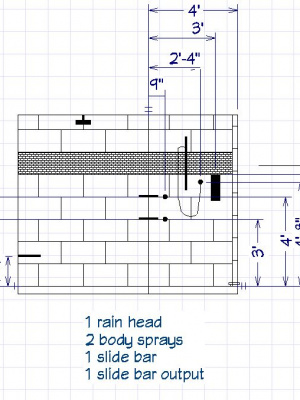 Ready to make designing your master bathroom fun? Garden State is ready to make that possible. Call us or make an appointment online today.